The Olympic Games began in 776 BC and were held in honour of Zeus, the king of the gods. The Games were held every four years at Olympia, in Greece.
People from all over the Greek world came to watch and take part. During a Olympics there was a truce to stop any wars so that athletes could travel from their countries to the Games in safety.
All free male Greek citizens were entitled to participate in the ancient Olympic Games, regardless of how rich or poor they were.
Each athlete went to the sanctuary of Zeus and sacrificed a pig to Zeus and a black ram to Pelops.
Married women were not allowed to take part in, or even to watch the Games. If a women was not married she could attend the competition but not take part.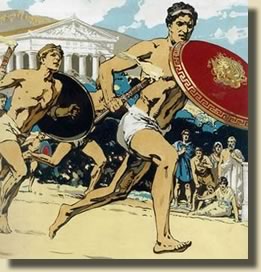 At the first one-day Olympic Games, the only event was a short sprint from one end of the stadium to the other. Gradually more events were added to make four days of competitions. They included wrestling, boxing, long jump, throwing the javelin and discus, and chariot racing. Winners were given a wreath of leaves, and a hero's welcome back home. Winners might marry rich women, enjoy free meals, invitations to parties, and the best seats in the theatre. The running track was much wider than a modern one. Twenty people could run at once.Explore the pictures below to lern more about the different events.